Lead Free PCB Assembly
| | |
| --- | --- |
| Payment Type: | L/C,T/T,D/P,Paypal,Money Gram,Western Union |
| Terms of Trade: | FOB,CFR,CIF,EXW,FCA,CPT,CIP |
| Min. Order: | 10 Piece/Pieces |

| | |
| --- | --- |
| Packaging: | Antistatic Packaging |
| Brand: | JHYPCB |
| Transportation: | Ocean,Land,Air |
| Place of Origin: | China |
| Supply Ability: | 10000 |
Product Description
Lead-Free PCB Assembly Services


The demand for lead-free PCBs is on the rise for varied applications across industries. There are several reasons for the immense popularity of this PCBs, including zero emissions of lead to the environment along with decreased Toxic Release Inventory (TRI). Considering the benefits these PCBs bring, we produce lead-free PCBs using specific toxic-free components and board finishes. Thus, complying with the RoHS directives, we are also contributing towards reducing e-waste and working towards environmental sustainability. Our lead-free PCB assembly services are offered to those customers who are concerned about the environment and its protection.
---
Lead-Free PCB Assembly Services Meeting the Regulations of RoHS and WEEE Directives
Applications of lead-free PCBs are numerous. Our processes and facility are RoHS compliant to produce lead-free PCBs for use in:
Electronic and electrical equipment

Consumer equipment

Lighting equipment

Toys, leisure, and sports equipment

Medical devices

Household appliances

IT equipment

Telecommunications equipment

Monitoring and control instruments
Our employees are professionally trained to provide lead-free printed circuit boards assembly services for your industrial applications. Additionally, our raw material procurement team ensures that all the components sourced for lead-free assembly are free from hazardous substances that equally threaten the environment and people working with it. We use halogen free boards, FR4 materials that are RoHS complaint, high temperature Tg and Td materials, lead free compatible solder paste in the making. Additionally, for finishing lead-free PCBs, we opt the following:
Lead-free Solder Finish (lead-free HASL)

Electroless Nickel Immersion Gold (ENIG)

Immersion Silver Electroplated Nickel and Soft (bondable) and Hard Gold Immersion Tin (White Tin)

Organic Solderability Preservatives (OSP).
---
RoHS Restricted Materials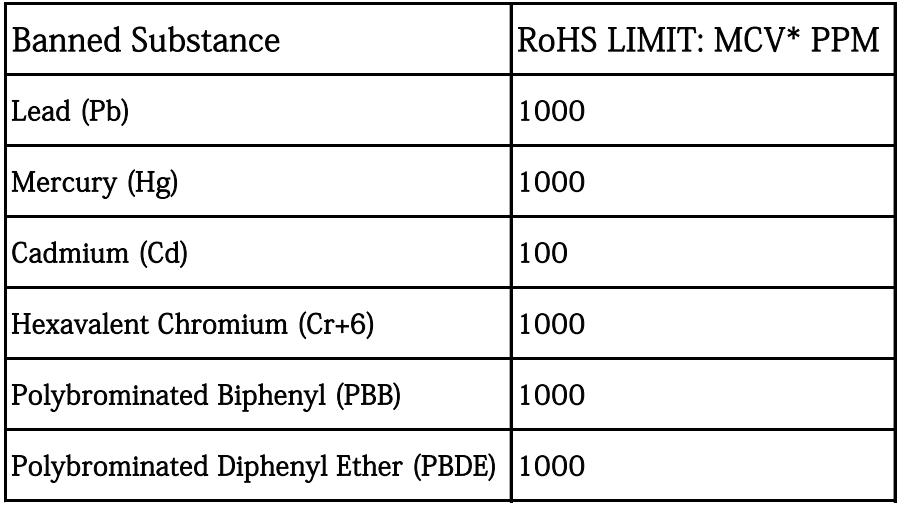 ---
Halogen Free Materials
What are Halogen-free requirements?
Bromine must be below 900 PPM by weight

Chlorine must be below 900 PPM by weight

Combined Bromine + Chlorine must be below 1200 PPM by weight
Laminate
The TBPPA based Fire Retardant material must be replaced

We do offer Halogen-free materials
Soldermask
Most soldermasks contain chlorine

We do have a limited offering of halogen-free masks
---
RoHS Compliant Material Identification and Packaging
JHYPCB provides a RoHS Certification of Conformance (C of C) with all shipments. To allow easy identification of all RoHS compliant products and materials, all our packaging has a RoHS/Pb-Free label.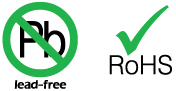 ---
JHYPCB's Lead Free PCB Assembly Capabilities
We offer comprehensive lead-free pcb assembly services and our capabilities in this arena include:
Lead-Free Materials Analysis

SMT and PTH Lead Free Board Assembly

Lead-Free Rigid or Flexible Circuits

Lead Free Selective Soldering

Lead Free Wave Soldering

Lead Free Circuit Board Rework

Lead Free Encapsulation and Conformal Coating

Wave Solder Flux Evaluation and Component Evaluation
Starting from temperature profiling, board finish selection and components analysis, board stencil and solder paste application, to component placement, testing, and packaging, we assure compliance with lead-free and RoHS PCB assembly standards. This stringent quality assurance has made us gain comprehensive competitive advantage and huge customer base from industries such as defense, military, marine, electronics, among several others.
Since its inception, punctual delivery of quality products has been our principle.. The same is applicable to our lead-free PCB assembly services as well. We own the technique, manufacturing excellence, and the right people, to produce standard as well as customized Lead free PCB assembly beyond customer expectations. Be it a prototype, small or large scale production, we are equipped to meet the challenges. Additionally, with a highly skilled team of personnel, we ensure meeting the technical specifications given by the customers as it is in the final assembly.
---
The Lead Free SMT Assembly Process
The RoHS PCB assembly process requires that none of the hazardous materials listed in the RoHS Directive are used in the boards, components or solders. Bare printed circuit boards used in the typical "leaded process" are often coated with a lead-tin finish, so the finish on the board must be modified significantly to be compliant with lead-free and RoHS standards.
The lead-free prototype process also requires that boards to be assembled at higher temperatures usually 30-50 degrees or higher. The higher temperature may require the substrate of the circuit board itself and various components to be modified to withstand the higher temperatures in the oven. In addition, the IC moisture sensitivity level that indicates how long the board can be exposed to the air is approximately 2 classes higher for lead-free boards. The shelf life of the materials used in lead-free boards may also be shorter.
To ensure proper oven reflow temperature profiling, we ask for one additional lead free PCB along with an extra set of any temperature critical parts; i.e. BGAs, heat slug parts, etc. These can be actual parts, non-functional actual parts or thermally equivalent dummy parts. Most manufacturers of large and expensive components can supply non-functioning "Mechanical Samples" specifically for this purpose. Additionally, suppliers, such as Practical Components provide thermally equivalent parts specifically for this purpose.
Due to the metallic composition of lead-free solder, the visual appearance may differ significantly from that of a standard leaded solder joint. Frequently, a first look will give the impression of a cold solder joint. Our inspection staffs are trained to IPC-610D standards to ensure that the solder joints are solid and of high quality.
Bill-of-Materials, Board Finish and Components Analysis
It is the customer's responsibility to verify that the Bill-of-Materials is correct for lead-free parts. We can also consult with you if you need help in determining if your board and components meet the requirements. If the components arrive in invalidated moisture package and we determine there might be excess moisture issues, we will notify you that your components need to be baked prior to assembly.
Applying Board Stencil and Solder Paste
We begin the assembly process using a lead-free compatible circuit board and applying a stencil to the board. A lead-free compatible solder paste alloy called SAC305 is applied. The SAC305 solder alloy is used in SMT, Wave Solder and Wire (Hand) soldering processes. After soldering, the board is visually inspected for solder coverage and manufacturing acceptability.
The next step is placement of parts using a Pick-and-Place machine. The parts that are placed are based on the supplied Bill-of-Materials. Each part has a unique part number assigned to it. When a product is programmed to run on the SMT equipment, the part is assigned and the machine will then pick the correct part. Any component on the board must be lead-free process compatible. These components must be able to withstand the higher solder and manufacturing process temperatures.
Thru Hole and Manual Solder
Bittele Electronics can also perform Thru Hole and Hand / Wire soldering of lead-free boards. Lead-Free Pass Thru and Hand soldering will be performed in areas with no leaded parts. We will use lead-free solder and a lead-free soldering iron.
Placing Board in the Reflow Oven
The final step is placing the board in the oven where the solder paste is melted to form a metallic bond between the component and the circuit board trace. Lead-free and RoHS compliant boards must be processed at higher temperatures in the reflow oven. The process margin (window) is smaller which makes thermal profiling more important for lead-free circuit boards. It is helpful for profiling to have the following: board thickness, board finish, size of the board, and layer count. We uses thermal profile to control the temperature reflow soldering processes and track thermal profiles required for lead-free boards.
We perform a visual inspection right after soldering to look for manufacturing defects. We use the IPC 610D soldering acceptability standard. JHYPCB has trained its staff how to evaluate lead-free solder joints.
Fully assembled lead-free Boards are packaged individually in ESD bags for shipment.
---
You Should Use Lead Free PCB Assembly If -
If any entry in the list below describes your situation, you will likely benefit from using lead free PCB assembly.
Your products may be sold in countries that have regulatory requirements, such as the EU.

Your state or local government mandates a lead free manufacturing process, such as in California.

The OEM for your board(s) requires that you meet regulatory standards, such as IBM and Hewlett Packard.

You are concerned about the health risks for those who work with and use lead-based products.

You are concerned about the potential liability risks associated with leaded products.

You understand the breakthroughs in smaller PCB manufacture that lead free PCB assembly has made possible and want to promote the continued advancement in this area.

You recognize the thrust for green manufacturing and want to attract customers that place a high premium on these issues.
---
Top 10 Reasons To Build Lead-Free And RoHS Compliant PCB Assembly
The ROHS directive issued by the European Commission (EC) which came into effect from July 1, 2006 has brought about a significant shift in the PCB Assembly and Fabrication process. ROHS, which is an acronym for Restriction of Hazardous Substances was brought into effect for the purpose of drastically reducing the use of toxic materials in the manufacturing and assembly of electrical and electronic products. The ROHS directive specifically bans electrical and electronic products that contain more than specified levels of any of the six hazardous substances listed below
Lead

Mercury

Cadmium

Hexavalent Chromium

Flame Retardant PBB

Flame retardant PBDE
The ROHS came into law from July 1, 2006 and empowered EU member states to refuse electronic and electrical products that contained any of the above mentioned hazardous substances in quantities greater than specified.
Complying with the ROHS directive required a major shift in the PCB Assembly process. This is primarily because the ROHS directive requires organization involved in the PCB assembly process to ensure that none of the hazardous substances specified in the directive is used in any of the assembly process including board, soldering and component. For instance, organizations providing PCB Assembly services had been using lead based solder for decades, the new directive required them to shift their process to include lead free soldering in the design and assembly of Printed Circuit boards used in the electrical and electronic industry. Also most of the circuit boards manufactured till then were coated with a finish that included lead and tin which also needed to be changed to lead free to ensure compliance with ROHS standards.
It has now become even more imperative for organizations to build a PCB Assembly process that is not only lead free but also ROHS compliant. The reasons range from legislative to environmental as well as financial. Below are the 10 most important reasons why organizations should start planning proactively for a lead free ROHS compliant PCB Assembly process
If you are a PCB Assembly services provider supplying to the European Union, then you will need to ensure ROHS compliance in your assembly process in order to do business in the EU. This is because any electronic or electrical product entering the EU needs a Bill-of Material that is ROHS compliant as well as use of technology that is ROHS compatible.
Even if you do not have business in the EU, it is better to plan proactively to build a ROHS compliant, lead free PCB Assembly process since almost all major countries and states are already planning legislation that limit the use of hazardous and environmentally damaging substances in industrial processes.
The introduction of RoHS has helped reduced environmental waste especially in third world countries which end up being the dumping ground for most electronic waste.
Health and liability risk associated with working with lead have become a major reason why legislation has been passed restricting the use of lead in many industries. In the PCB assembly process, the health risk posed to workers during contact with solder paste is what has led the move towards lead free PCB Assembly. A lead free PCB assembly environment provides eliminates health risks to workers and reduces liability of organizations involved in the assembly process.
With the use of lead free soldering, PCB designers have been able to simplify the design of the board itself which is the primary reason for a significant breakthrough in the size of the Printed Circuit boards. Simpler pcb layout has made it possible for PCB manufacturers to assemble and fabricate smaller boards, something which they had been struggling to do before. The ability to assemble smaller printed circuit boards is what has led to the introduction of faster and smaller hand held devices like tablets and cell phones.
Another big reason for using lead free soldering is that it makes it possible to assemble printed circuit boards with fine, tightly packed pitch components such as those required in the semi-conductor industry.
A major concern regarding the use of lead free assembly has been the issue of reliability since there is no common standard governing lead free soldering. But these concerns have proved to be unfounded as statistics conclusively show a reduction in errors and customer complaints in the EU region since the introduction of ROHS standards.
Lead free soldering has made mass assembly of smaller and tighter Printed circuit boards much faster and cheaper than before. This has enabled organizations using ROHS compliant lead free assembly process to achieve significant cost savings.
In addition, companies using lead free, ROHS compliant PCB assembly process are able to use it as a big selling point while pitching to clients.
Being lead free and ROHS compliant also increases your ability to compete in a global environment.
---
How To Get a Lead Free PCB Assembly Quote
You can get a quote in a number of ways:
Online Quote: Real-time contact and communication with our sales and engineers through our online customer service system
Offline Quote: Buyers sometimes prefer this method of quoting. Browse the list of products and services on our website, select the products and services you need, and then tell us through the online order system.
Email: You can also get a quote by emailing us. Please attach all your files.
Call us: Or you can call us directly
---
Relation Posts
Learn More Informations
JingHongYi PCB (HK) Co., Limited
Jinghongyi PCB (HK) Co., Limited is a professional manufacturer of high-quality PCB. JHY PCB specializes in quick turn PCB prototypes, small-medium volume PCB. Established in 2011, located in Baoan District, Shenzhen, China, with more than 500 experienced employees, we're able to achieve monthly output 40000 square meters.
PCB Manufacturing Services
As one of leading printed circuit board manufacturers based in China, JHYPCB has been offering international companies of all sizes with high-quality PCB prototype to production services at fair price for 8 years. To make professional and advanced circuit boards, we're committed to adhering to the strictest standards during PCB manufacturing process, we're fully compliant with the ISO 9001:2008 quality management system.
- Save money&time! Achieve peace of mind!
- A professional and trustworthy PCB Prototype manufacturer.
- Fastest PCB Prototype.
- One stop solution for various PCB&SMT Stencil.
- Low cost for simple PCB.
- Affordable price for high-tech PCB.
- Minimum orders 1pcs.
- 24-hour online customer service.
- Professional PCB engineer for one-to-one service.
- Shipment on time.
- Guarantee good service and quality from PCB quotation to delivery.
PCB Assembly Services
To deliver true value and convenience to our PCB fabrication clients, we expand our business to components sourcing and turnkey PCB Assembly services ranging from prototype, low-to-middle volume to high volume up to 1 million pcs. We can mount components on circuit boards using surface mount technology (SMT),through-hole technology (THT), and manual insertion:
- High quality assembly services with short lead times
- No minimum order
- No additional charge for stencils
- Free DFM Check
- 100% AOI test and X-Ray test for BGAs package
- Function tests & IC programming based on custom requirements
Our company is approved by UL, TS16949, ISO-9001, and RoHS compliance.
All boards are produced according to IPC-6012 standards and inspected according to IPC-A-600 in the latest version. Our products are widely applied in communications, industrial control, power electronics, medical equipment, security electronics, consumer electronics, LED, etc. More than 90 percent of them were exported to Europe, North America, South America.

One stop service include
Company Name: JingHongYi PCB (HK) Co., Limited
Representative: Chen Zhi
Product/Service: PCB Manufacturer , PCB Prototype , Flexible PCB , Multilayer PCB , Aluminum PCB , Rigid Flex PCB
Capital (Million US $): US$1.5 Million
Year Established: 2011
Total Annual Sales Volume (Million US $): US$50 Million - US$100 Million
Export Percentage: 91% - 100%
Total Annual Purchase Volume (Million US $): US$10 Million - US$50 Million
No. of Production Lines: 8
No. of R&D Staff: 5 -10 People
No. of QC Staff: 41 -50 People
OEM Services Provided: yes
Factory Size (Sq.meters): 1,000-3,000 square meters
Factory Location: Building 15, Wan Xia Industrial Park, Tongfuyu Industrial Zone, Shajing,Baoan District, Shenzhen, China.
Contact Person: Ms. Megan
Tel: 86-1351-0758219